What are Progressive Web Apps? And how are they different from the Native or Traditional Web Apps?
In simple words "Progressive Web Apps are a mixture of a mobile and web apps!"
Progressive Web Apps work for every user, no matter what browser you are using or location! Whether you are using Chrome or Opera, whether locally or globally, it doesn't matter! Progressive Web Apps will just work fine because they're built on progressive development theory.
PWA's are built using HTML5, CSS and JavaScript, and they can keep you out of the nightmarish rules and restrictions by Play Store and Apps Store! Cause you don't need any apps store to publish Progressive Web Apps.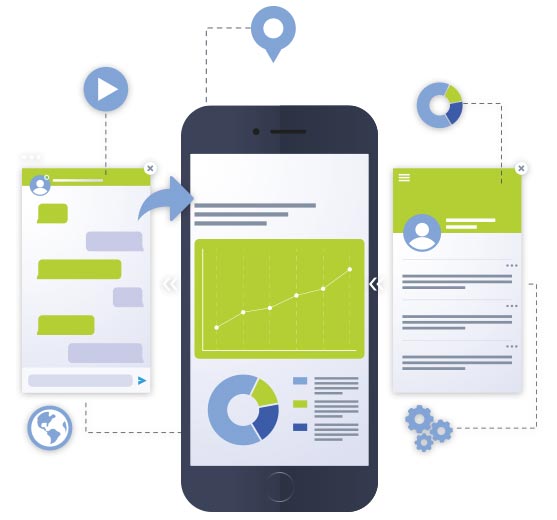 Your search for the right PWA Web App development company that will partner with you to provide an ideal blend of cutting-edge techniques and technical savoir-faire concludes right here!
Our Progressive App Development

Features
Fresh
PWA service workers, a type of web worker help keeping latest information updated.
Independent of connectivity
Progressive Web Apps even work on low-quality networks, even offline!
Feel-like-App
Progressive Web Apps have app-like interfaces and navigation just like any Native or Traditional Apps.
Totally Responsive
Progressive Web Apps are compatible with any device! Desktops, mobile phones, tablets, everything……
Secure
Progressive Web Apps are never served without HTTPS, ensuring no one without proper permission can damage your app.
SEO Friendly
As per to the W3C manifest, Progressive Web Apps are classified as apps. It is easier to find a Progressive Web App through service worker registration scope that allows search engines to find them easily.
User Engagement
Features like 'Push Notifications' make user engagement very easy!
Linkable
Progressive Web Apps can be directly shared via URL and do not require any installation.
Many more

amazing services

under one roof